Early Childhood Education Center
(ECEC)
Grade(s) and/or Subject(s)/ Classes you teach? Director of the Archbishop Bergan Catholic Early Childhood Education Center
High School attended? Fremont High School
University Attended? Wayne State College
Degree Received? Bachelor's Degree in Early Childhood Special Education, Minor: Studio Arts
In your opinion, what is the absolute best thing about Archbishop Bergan Catholic School? Faith Based Education from 3 years and up!
---
About Us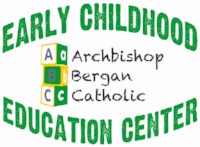 Archbishop Bergan Catholic Early Childhood Education Center is located at 450 E 4th Street on Bergan's Downtown Campus on the corner of 4th & Union streets, in what used to be known as the St. Patrick's Community Center.
The ECEC provides loving, faith based childcare for students who are 3 years old and potty trained through 12 years old.  Students enrolled in Preschool will explore social development, gross motor sills, fine motor development and an introduction to an academic environment.
A variety or programming is available to fit the needs of our families and students.
Childcare at the ECEC
 Available for Full Time Childcare, Before School, After School, Early Release Days, & Scheduled No School Days
Open from 6:00 AM to 6:00 PM
Security: locking doors, cameras & personal identification numbers to check in and out
ECEC Offers: 

AM Snack, Lunch, PM Snack
Transportation to and from Bergan Elementary
 Pre-Kindergarten Full Time Childcare
Includes:
Tuition for a Pre-Kindergarten Class with Mrs. Kassmeier at Bergan Elementary

    Morning Class: 8:05 – 11:00
    Afternoon Class: 12:20 – 3:20

Transportation to and from Bergan Elementary
Maximum 50 Hours of Care
Lunch
Little Knights Preschool Full Time Childcare
Includes:
Tuition for a Little Knights Preschool Class with Ms. Meghan at the ECEC

Two Days a Week (Tuesday and Thursday)
Three Days a Week (Monday, Wednesday, Friday)

Morning Class: 8:30 – 11:00
Afternoon Class: 12:15 – 2:45

Maximum 50 Hours of Care
Lunch